Tombstones serve as memorials to remember a person. They portray joy as well grief, peace as well as horror, and also sometimes respect and tribute to those who were martyred for the sake of saving their country.
Monuments and memorial benches are also used to symbolize the emotions. Monuments are the sculptures carved out of stone in the shape of humans and angels while memorial benches are a piece of furniture placed in public places and graveyards. People sit on them and ponder about their afterlife. Tombstones, monuments and benches all are engraved with name, date time and sometimes place of death as well as any message for the deceased.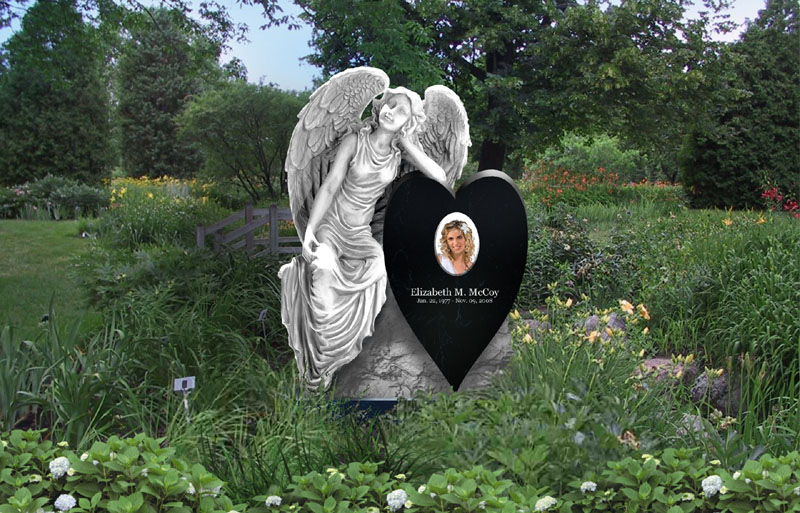 Early memorial tombstones portrayed a picture of fear and terror which showed that life after death is scary and not peaceful. Whenever people see the tombstones they scared from death and life which lay ahead of it. Even though people are still scared from death but not from afterlife because the headstones and monuments in the early nineteenth century were replaced from devils to peaceful angels and skeletons to innocent children and loving women, implying a message that afterlife is peaceful and not horrible. These monuments are usually white in color as white is the color of goodness, peace and love and also it represents purity that the souls are now free from all sins.
A joyful girl tombstone is a monument of a winged girl like an angel who is resting on a jet black heart shaped headstone. The angel is seemed to have a smug face that symbolizes that all of her wishes have been fulfilled, and with the help of death doors of eternity have been opened for her. She is now free from all worldly cares and fears, and is now ready to lead a peaceful eternal life in the palaces of paradise. Also it shows that her voyage from this world to her eternal life has been joyful.
People can also relate this headstone to the fact that the deceased had suffered a lot in the world and now needs a peaceful life in which there will be no worries. Therefore, they can put this headstone on the grave to show him that all the difficulties are now ended.
This Angel headstone provides a way to grief your loved ones in its own unique way as the angel is radiating positive energy that will only make people remember the goodness and happy memories of the deceased.